Favorite Links
Favorite Links
Favorite Sites
British Printing Society
A Society for mainly amateur printers.
The Website includes extensive information on the history of printing, letterpress and modern printing.
.
An exclellent description of the Albion Press, along with further details on everything to do with letterpress printing.
.
An excellent guide to printing for both children and adults !
.
An opportunity to read one of Davison's halfpenny chapbooks online!
.
An 1826 Election poster from Smith, the Alnwick printer.
.
Read the full text online of "The History of the Catnach Press"
A blog with an excellent description of the history of James Catnach, printer and ballad-monger.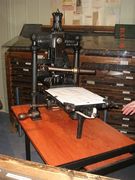 Other sites
Wood engraving in creating printed illustrations.
.
Everything you could possibly want to know about Thomas Bewick!
View Burman's book online, including a list of all of the publications in Alnwick during that time.
The excellent Robert Smail's Printing Works, with their many helpful Volunteers.
Have Fun!