Bailiffgate Museum Printing Equipment Area
The Museum's Printing Equipment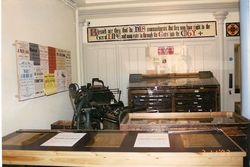 The Printing area before the Project started. The table in the foreground is a different "hands-on" facility for youngsters: brass-rubbing!!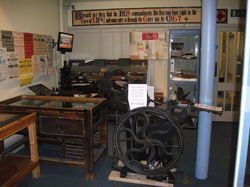 The glass-topped display bench to the left holds several printing tools and items. The television screen on the wall was used to play DVDs showing an Albion Press in operation.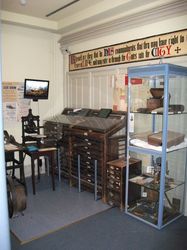 The blue-framed display cabinet to the right holds a selection of Printing-realted items. The long cabinet in the centre holds several drawers of printer's type.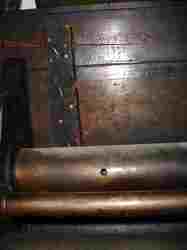 On the underside of the Arab Press are scratched the words: "T.G. Davison, March 11th 1901, W Dodds, Jan 15th 1894"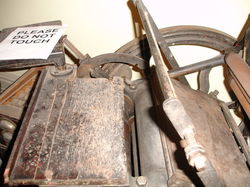 The top of the Arab Press, with the obligatory "Do Not Touch" sign -- most of these old presses have many dangerous moving parts!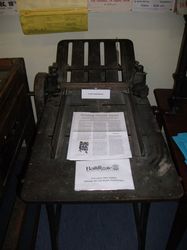 The Cundall Folding Machine. Most such machines were powered by an external power source, turning a belt around the wheel to the side of the machine, allowing about 10,000 sheets per day to be accurately folded if required!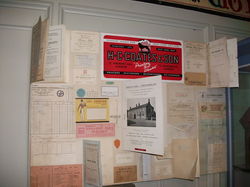 Overlooking the Printing Display Area, a selection of printed products from HC Coates, a now gone local Printer.